https://www.facebook.com/AgentSteelOfficial2/
https://www.facebook.com/AgentSteelFanPage
https://www.facebook.com/AgentSteelOfficial2/
The Complete Timeline
Agent Steel is a Speed Metal band, formed in 1984 by lead vocalist John Cyriis. Cyriis came up with the name by channeling the idea of investigators ("Agents", so to speak) who dissect supernormal occurrences within the fabric of time and space, and came to the conclusion that projecting the campaign of the Agents through the arts would probably be best done through Heavy Metal music — and thus the legendary name known as AGENT STEEL was created. (As of present day, however, John Cyriis came to the conclusion that he was wrong that it was best campaigned through Heavy Metal music). The first legal registration of the name ("AGENT STEEL") was registered by Cyriis on July 23, 1984.
Agent Steel was formed by Cyriis shortly after his firing from Megadeth in 1984, for Dave Mustaine was against the idea of playing the "Aliens Card." (In all actuality, however, Agent Steel does not exclusively touch upon subject matter relating to the possibility of life existing on other galaxies — but instead the philosophical format of the band was presented in the form of a polemic.)
First appearing under the name 'Sanctuary,' Agent Steel's first incarnation recorded a demo in the studio, titled "144,000 Gone" in the summer of '84, which was produced by Cyriis' longtime friend Dan McConomy, who is the band's current manager as of 2020.
144,000 Gone was written by Cyriis when he was a guitarist in Sceptre, an underground metal band formed in Los Angeles in 1983 by his best friends, Tony and Phil Sardo. The lineup — whom Cyriis personally invited — comprised of drummer Chuck Profus, guitarists Bill Simmons and Mark Marshal, and bassist George Robb. They accepted the offer gratefully, but in the end only two out of the four who were invited stayed in the lineup until the group disbanded — for reasons unknown.
After Simmons and Marshal left the band, Cyriis then recruited Juan Garcia and Kurt Colfelt.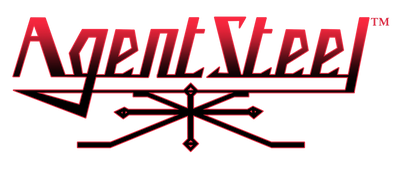 Agent Steel – Scarlet Logo
1985: SKEPTICS APOCALYPSE
---
The Skeptics' downfall…
From December 1984 to February 1985, Agent Steel recorded their debut album, titled "Skeptics Apocalypse", released in June '85 by Combat Records. Till this day, Skeptics Apocalypse is a world-renowned Speed Metal classic; it's most popular song, Agents of Steel, has over half a million listens on YouTube as of 2020.
Due to a falling out with Cyriis, Colfelt left the band; Bernie Versailles replaced him shortly after.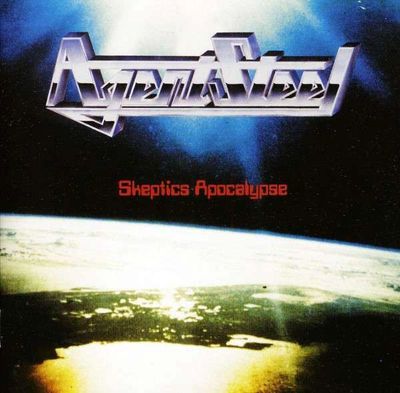 1986: MAD LOCUST RISING (EP)
---
Locusts and plagues…
On October of '85, Agent Steel began recording the EP Mad Locust Rising, which was finished and released in January 1986. Bassist George Robb left the band shortly after the EP's release, to which he was replaced with Michael Zaputil of Letchen Grey.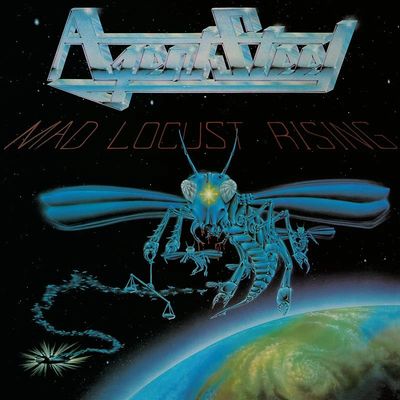 1987: UNSTOPPABLE FORCE
---
Dawn of the Space Migrator…
In March 1986, Agent Steel entered the studio once again to record their second album Unstoppable Force. The recordings came to a halt when the band had commitments to perform at the Aardschok Dag Festival in Eindhoven in April 1986. In May 1986, they toured Europe with Anthrax and Overkill. After the European tour, Agent Steel returned to the studio to finish the recordings in June 1986. The album's release was then delayed due to complications with the cover artwork. It was then estimated that Unstoppable Force were to be released in early 1987.
In November 1986, Capitol Records expressed interest in signing the band, who had recently signed Megadeth. The band's management demanded more money, in which the label agreed to, with a stipulation that the band would have to wait until the new year to release the album, and with the acquisition of new department budgets.
John Cyriis and Chuck Profus moved to Florida for various reasons, while the rest of the members remained in California.
In January 1987, Capitol Records withdrew from the offer due to suspicions within the band's line-up changes. Unstoppable Force was released in March 1987 by Combat Records instead. Cyriis and Profus were then joined by guitarists James Murphy and Jay Weslord, and bassist Richard Bateman. The fresh, all new and improved lineup performed shows in Europe with UK-based band Nuclear Assault in June 1987, one of them being at the Hammersmith Apollo, in which their final performance can be seen on the 1989 home video Mad Locust Rising: Live at the Hammersmith Odeon 1987.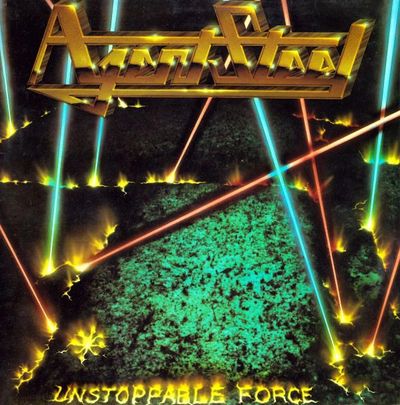 DISBANDMENT
---
The truth behind the lie…
The reason as to Agent Steel's sudden disbandment and disappearance in 1988 was at first a mystery. It was not until November 2019 when Cyriis, in an interview, revealed the true reason as to why Agent Steel was disbanded in 1988:
"….Agent Steel was buried alive by Combat Records, who put the band on suspension for no legitimate, justifiable reason. Why they did so, remains a mystery to this very day. There are many conspiracy theories' that dabble with the answer as to why Combat Records buried the Agent Steel band in 1987; however, there are many theories as to why this happened – including a few of my own – but all the same, no substantial proof as of this writing have been brought out supported by facts, to support the more popular theories which are in truth actual cover ups to the real factual based truth!"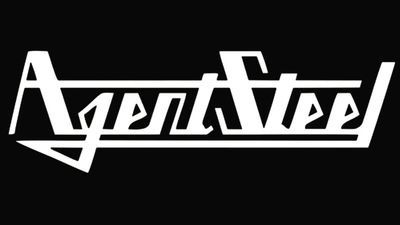 2019–2020: THE RETURN
---
The unexpected return!
Agent Steel was reformed in 2010, and the band (this time with the inclusion of Cyriis on vocals) played 2 shows, before again disbanding, only to be resurrected yet again in 2019, by Cyriis himself — at Keep It True XXII.
Ever since April, Cyriis announced the recording and release of Agent Steel's new album, No Other Godz Before Me, scheduled for release in 2020 by Dissonance Productions.
"What's not to like! The Unstoppable Force returns and is about to land an epic slab of killer speed metal on my label! Soooooo excited about this record and can't wait to see the band firing on all cosmic engines live soon!"
—Steve Beatty, Dissonance Productions Head Honcho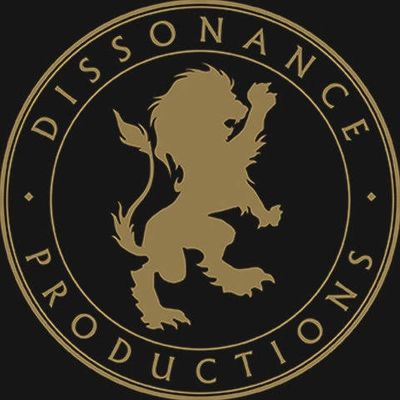 LINEUP
---
John Cyriis – Vocals
John Cyriis is the original lead vocalist and songwriter of the Agent Steel band. He is also the proprietor of the band name.
The Agent Steel band are most notable for Mr. Cyriis's extraordinary vocal performances – both live and in the studio – and is the creative mastermind behind the band's surreal yet extraordinary lyrical concepts and album covers (that is, of the band's first two albums and EP), weaving the idea of life existing elsewhere in the universe.
After Agent Steel had disbanded in the late eighties, Mr. Cyriis went on to study the bizarre field of paranormals, UFOs, extraterrestrials, and the like. He had explored the world surrounding those who had come in contact with entities from other galaxies and dimensions for some years until his unlikely return with his band in 2019.
With this unlikely return, Mr. Cyriis announced at the helm the production of a new studio album, titled "No Other Godz Before Me." This soon-to-be-masterpiece is utterly superior to that of its predecessors, as its lyrical concepts are surreal and mind-blowing, and its music whimsical, vibrant and utterly compelling.
The album cover to "No Godz" – which is a photo slide taken by Cyriis during his studying of the paranormal and extraterrestrial universe – features various thrilling elements that is guaranteed to put a chill down one's spine: for one thing, it's not of this world; for another, it's full of light….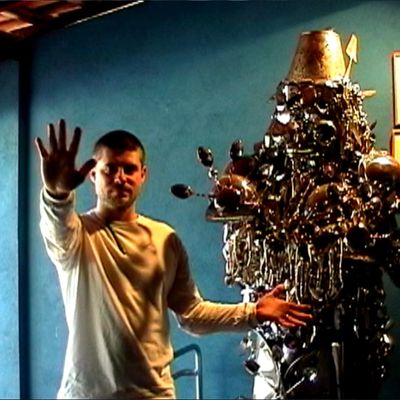 Nikolay Atanasov – Guitar
Nikolay Atanasov is the current co-lead guitarist of the new era of Agent Steel. Originally from Copenhagen, Denmark, Atanasov is a guitar virtuoso and co-songwriter, offering a wide-array of surreal riffs, harmonies as well as solos in the band's forthcoming studio album, "No Other Godz Before Me."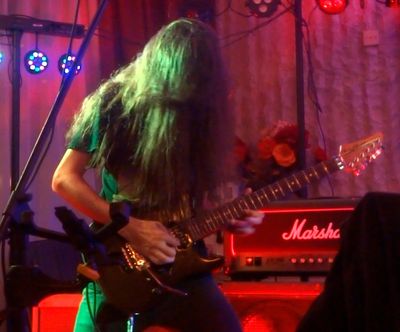 Vin Obscurious
Vin Obscurious is the second of the two lead guitarists in the Agent Steel band. A metal pioneer and guitar virtuoso, he is the current co-lead guitarist of the band (as of 2020). Obscurious offers a set of jaw-dropping shredding guitar solos on the band's forthcoming album ("No Other Godz Before Me"), which will surely leave fans and fellow musicians in awe, and with confidence to re-endorse the new era of the band's lineup.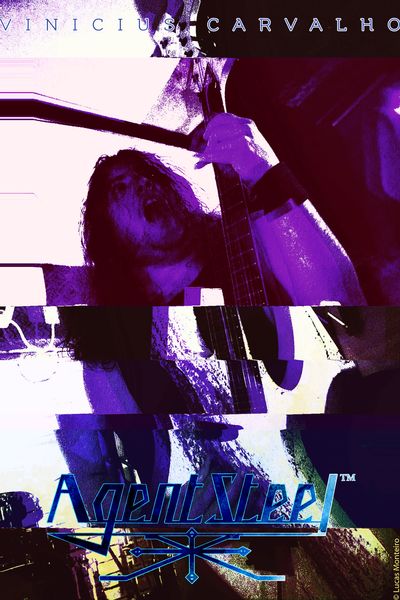 Shuichi Oni – Bass
Shuichi Oni is a bassist, guitarist and synthesizer-keyboardist, professor at Who Is Shuichi Oni? Metal University. A master bassist and good friend of John Cyriis, he is the current bassist of Agent Steel.
Rasmus Kjær – Drums
Rasmus Kjær is the current drummer of the new incarnation of Agent Steel. Charged with upmost vigor and intensity, Kjær offers a compelling drum performance on "No Other Godz Before Me" that is sure to blow listeners away.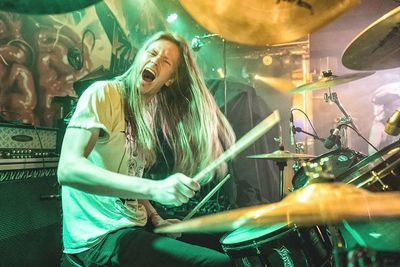 836 total views, 1 views today